TOFLEX SRGK
TOFLEX SRGK self-regulating heating cable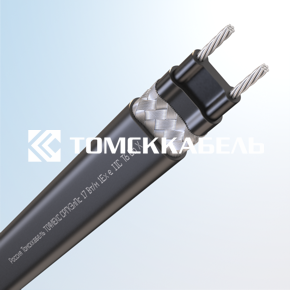 As part of the development of the production of import-substituting products of Tomskkabel LLC, production of electric heating cables for temperature maintenance systems and anti-freezing protection of industrial, municipal and household objects of self-regulating heating cables TOFLEX SRGK was organized.
A wide range of operating temperatures, nominal capacities and design options allows you to choose a cable that matches the actual operating conditions and ensures the most efficient operation of the electrical heating system as a whole.

Cables are designed to protect against freezing and heating of residential and industrial facilities of the petrochemical and oil and gas industry. Cables can be used in hazardous areas of classes 0, 1, 2 according to GOST IEC 60079-10-1.

Download the TOFLEX СРГК catalog
Benefits
Foreign manufacturers
Wide range: low temperature, medium temperature and high temperature cables with a rated power of 10 to 100 W / m.
Operation in a wide range of temperatures: from minus 60 ˚С to plus 240 ˚С.
 

Installation and operation of cables in hazardous areas of classes 0, 1, 2 according to GOST IEC 60079-10-1.
 

The ability to use cables in a sheath of thermoplastic elastomer and fluoropolymer under the influence of aggressive media.
 

The ability to install cables at a temperature not lower than minus 40 ˚C.
 

Good adhesion of the conductive cores to the semiconducting matrix, ensuring the prevention of power loss during operation and under bending conditions.
 

High mechanical strength of cables due to the use of modern wear-resistant materials and advanced manufacturing techniques. Minimum bending radius during storage, installation and operation of at least 35 mm.
 

Cables are resistant to UV and moisture. The possibility of laying and operation in the open air.
 

The service life of cables is at least 25 years if the consumer observes the conditions of transportation, storage, installation (installation) and operation.
 

Manufacturing on modern foreign equipment.
 

Debugged product quality control system.
 

Work together with the engineering division of Scientific and Technical Center Moscow Energy Systems LLC, which carries out design, installation and commissioning work.
 

To date, the most popular global manufacturers of cables for industrial heating systems, including self-regulating heating cables:
Chromalox (France) - Etirex
 
According to its design and technical characteristics, self-regulating heating cable TOFLEX СРГК is a competitive product in relation to foreign representatives.