Sale of copper wire brand MM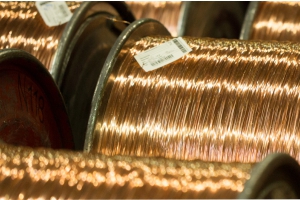 Delivery of products is carried out on pallets in a comfortable corrugated packaging, which allows you to immediately bring the wire to the place of subsequent processing. Size of corrugated packaging 1054 x 1400 mm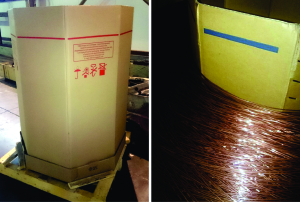 We offer direct deliveries of MM wire to all cable manufacturers and wholesale organizations.
Products are manufactured in diameters ranging from 1 to 3.5 mm
Product weight with packaging, depending on the diameter of the wire is from 600 to 1000 kg
In the first bonus delivery, you are offered a device with a roller for ease of unwinding the wire. Simply remove the cover from the package and set the receiving device on top and pull the end of the wire through the roller. The wire is folded into the package in such a way that it easily comes out of the container through the receiving device without being tangled or twisted, thanks to the inner insert made of corrugated cardboard.
YOU DO NOT NEED A LINE OF EXPLOSION AND ANTINING A SEMI-FINISHED PRODUCT IS FULLY READY FOR INSULATION SUPPLY TO THE BUYER FROM 5 WORKING DAYS
PERMANENT AVAILABILITY IN MANUFACTURER'S WAREHOUSE. CONTRACTUAL PRICE
To place an order, as well as get more detailed information about the polymer packaging, please call: 8 (3822) 49-89-89